Starbucks is different from other coffee houses, their working and serving style as well is totally unmatched.
Most of the coffee houses serve their drinks, coffees, and slush in small, medium, and large size of cups. Sometimes some of them have extra-large cup sizes on their menu, but it is not common in every coffee shop. By these names, you can easily estimate the amount of liquid in your cup.
On the other side, Starbucks' cup size scheme and naming strategy are quite different. So by the Starbucks cup names it's tough to get an idea about the drink level in the cup. In this situation, there is a chance of confusion, to get it clear read up to the end.
Table of Contents
Starbucks Cup Sizes
Initially, Starbucks had three cup sizes Short, Tall, and Grande. These three respectively stand for small, medium, and large. Later, Starbucks eliminated the short cup size, introduced the new one, and named it venti.
So the concept of the small, medium, and large, vanished completely after the venti cup size arrival. Currently, Starbucks owns seven different cup sizes Which are listed below.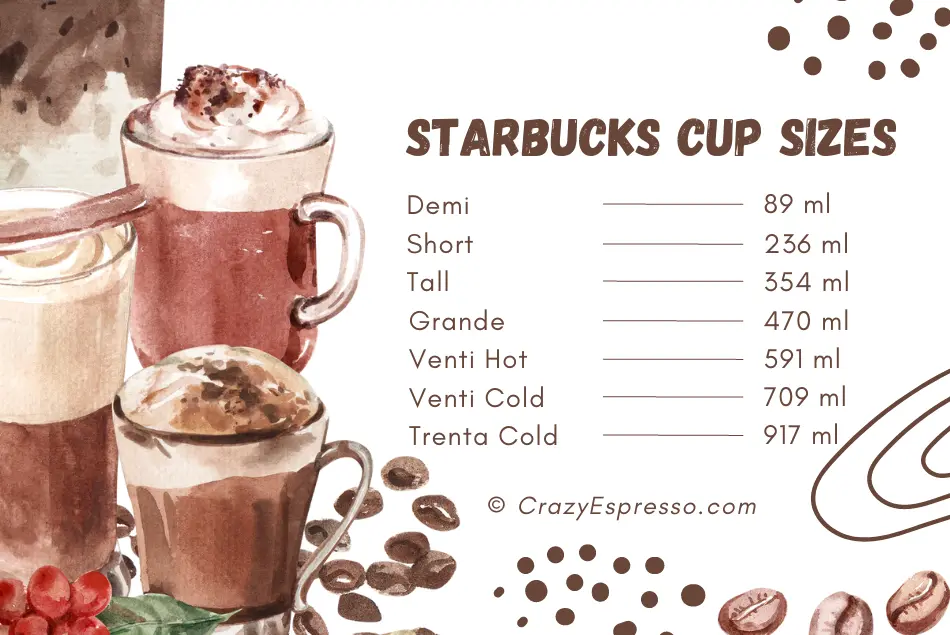 Note:  There is the possibility that the same cup size of Starbucks would vary from the other Starbucks of any other location.
Story Behind Starbucks Cup Sizes
In 1971 Starbucks was established, and in 1982 H.Schultz was leading the marketing department of Starbucks. Schultz was a very wise and good observer, Once he had to go on a trip to Italy. During the tour, he notices that 1500 coffee shops are in the same city making coffee chains.
This thing stimulates Schultz, He wants to introduce the same coffee chain system in America. He wants that people enjoy the coffee who still consider coffee only a normal cup of drink. He wants that people should fanaticize the love and elegance of coffee.
With this inspiration, Schultz start his own coffee shop named Giornale. In 1989 Starbucks was facing a financial crisis and it was submitted for sale. Schultz didn't miss this golden chance and bought it. Schultz did this because he want to make his dream true to make a coffee chain in America.
Note: At present date, alone the United States has 6000 Starbucks Coffee shops.
Because Schultz gets inspiration from Itlay, so he also uses the Italian language for naming its products. For Example, Trenta is an Italian word that means thirty, it interprets that a Trenta cup size holds thirty ounces gram of liquid.
Plus Point: Starbucks do not charge any fee for their cups, they only charge for the drink they are going to serve you.
How is Starbucks Each Cup Different From Other?
Starbucks Cups are quite different from each other in regard to their sizes. Each cup size with its specific information is listed below.
Demi
Demi is Starbucks' smallest size cup, used in Itlay back in 1906. Starbucks takes demi word for its 3-ounce gram cup. Demi word is derived from the French word  "demitasse" which means "half cup".
No doubt you are not familiar with this cup size or maybe it is the first time you are hearing this word. Only espresso lovers know about the demi cup size because the demi cup size is too little to hold other sorts of drinks. '
Demi cup size is best for espresso shots, and also for strong caffeine intake. An espresso shot equals one ounce so it's clear that the demi cup size has the capacity to store three ounces of espresso shots.
Tip: These cup sizes are not available in stores, but you can buy them online.
| | |
| --- | --- |
| Starbucks Cups Name | Demi |
| Holding Capacity | 3 ounce |
| Espresso Shots | Not Applicable |
| Teabags | Not Applicable |
| Quantity of Syrup | Not Applicable |
Short
Starbucks initial menu starts with three cup sizes and short is one of them. Earlier short was very popular among people, but with the passage of time Starbucks grew and start to introduce new cup sizes. With the arrival of new sizes short lost its fame.
A time came when Starbucks have to remove it from its official menu. But the good news, it's still available on their secret menu. Short-size cups can hold 8 ounces of liquid which is higher as comparable the Demi.
Short cup size is only available for some specific hot coffees as for some drinks like Americano and cappuccino.
Because of its short size the caffeine content is definitely less as compared to the bigger one. It contains approximately 75 to 155mg of caffeine which is quite equal to the caffeine in the normal coffee mug in our homes. In this way, it would be a fabulous option for teenagers and caffeine avoiders. 
Tip: If you want to enjoy your favorite expensive hot drink, then order it in a short cup size. In this way, you can enjoy it at an affordable range.
| | |
| --- | --- |
| Starbucks Cup Name | Short |
| Holding Capacity | 8 ounces |
| Espresso Shots | 1 |
| Teabag | 1 |
| Pump of Syrup | 2 |
Tall
Don't confuse by the name because tall sounds like "very large", it's just an illusion of your thought. Despite the Demi cup size (only use for espresso shots), Tall is the smallest cup size that exists on Starbucks official menu.
The coffee in tall cup size is equivalent to normal two cups of coffee, as it has to hold a capacity of twelve ounces. Are you stuck on the word equivalent to two coffee cups regard to caffeine content? Don't bother with it, because the caffeine content is average as officially only one espresso shot is added to a tall cup size.
Pro Tip: You can also have a strong caffeinated coffee in tall size cup by requesting Baristas to increase the number of espresso shots.
Tall cup sizes are the best option for those who want more milk with a well-balanced flavor along with healthy caffeine content. Tall cup sizes also hold fewer calories as compared to 16-ounce cups or 31-ounce cups, so if you are a calorie check person then have your coffee or drink in a tall size cup. Starbucks uses tall sizes cups to serve both hot and cold beverages.
| | |
| --- | --- |
| Starbucks Cup Name | Tall |
| Holding Capacity | 12 ounces |
| Espresso Shots | 1 |
| Teabag | 1 |
| Pump of Syrup | 3 |
Grande
The word Grande is also an Italian word which means "large", in some other languages the grande stands for the same meaning. The terminology sometimes misleads, In the earlier time of Starbucks, the grande was actually its large cup size but not now, due to other sizes on the menu, bigger than the grande.
Grande cup size holding capacity is 16 ounces in other words 470ml. The cup size is ideal to hold a strong well caffeinated coffee for you. If you are a person who prefers to take strong coffee then order a grande cup size as it contains two espresso shots.
Note: In the Grande cup, you can ask your barista for an additional Ristretto shot.
Same as tall the grande cup size is also used for hot and cold drinks. Because it considers a medium by people so it's their default choice. Inshot grande cup size is also considered as standard cup size. The thing that makes it different from other cups is, it is the only cup used by Starbucks to serve their delicious smoothies.
| | |
| --- | --- |
| Starbucks Cup Name | Grande |
| Holding Capacity | 16 ounces |
| Espresso Shots | 2 |
| Teabag | 2 |
| Pump of Syrup | 4 |
Venti
Venti name is derived from an Italian word and it gives an expression of "twenty". Starbucks has two different cup options for the same name Venti, both of them explained below.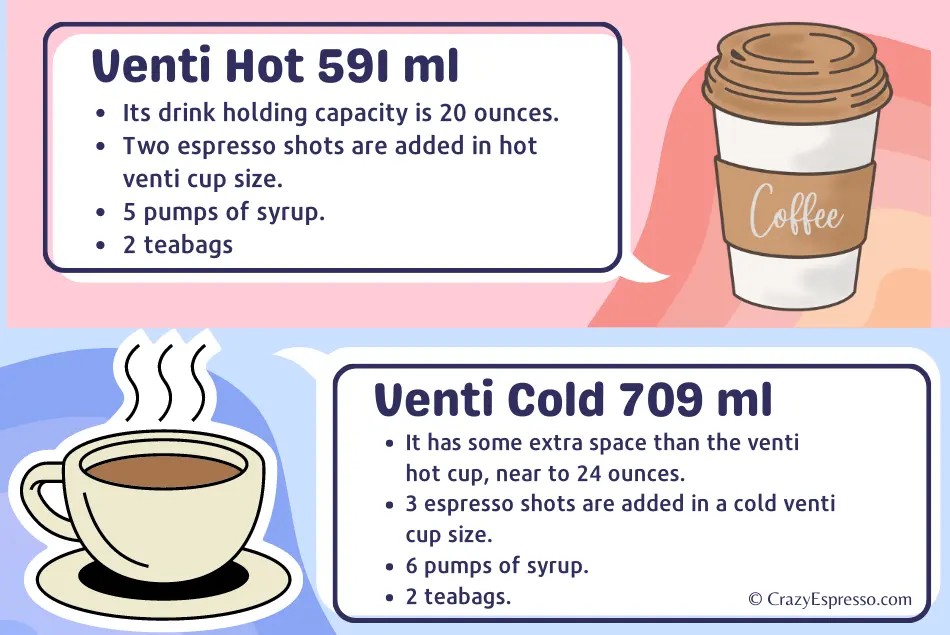 Why Venti Hot is Smaller Than Venti Cold?
Venti hot is smaller than venti cold cup size because there is no need to make specific room for ice, but in the venti cold it is compulsory. For this purpose, Starbucks adds a very good point for their customer by giving extra room for ice. By this, the quantity of drink in the cup will not be minimized due to a bit bigger cup. And customers can enjoy the exact amount of drink for which they had paid.
Trenta
It is the largest cup size offered by Starbucks, and its name is also an Italian word that stands for "thirty". Trenta is the newest cup option on the Starbucks menu.
Trenta cup size is a fabulous option if you want your drink in a super big-sized cup. Trenta is only available for cold beverages like cold iced coffees, or frozen shakes.
Note: Trenta is not available for all iced beverages as it is not available for frozen americano.
| | |
| --- | --- |
| Starbucks Cup Name | Trenta |
| Holding Capacity | 31 ounces |
| Espresso Shots | Not Applicable |
| Teabag | Not applicable |
| Pump of Syrup | 7 |
Why Trenta Cup Size is Available Only For Cold Beverages?
Trenta can hold 31 ounces of drink, which is no doubt approximately equivalent to 4 to 5 normal cups of coffee. Trenta is extra large because it has a huge room for ice, but in the case of the hot cup, the room for ice has to fill with coffee. In a short time taking caffeine content equal to 4 to 5 cup don't lead to health consequences. Also, espresso shots are necessary for hot coffees and espresso shots are not applicable to Trenta cup size.
Pro Tip: Venti will be the best option for your hot drinks because the amount of espresso shots can be customized according to you.
Modification In Starbucks Cups
Starbucks is very popular in America as well as in other countries of the world, so a large number of cup sales is obvious. But the problem is that Starbucks cups are made of plastic and paper.
The chances of recycling are quite zero and also can't use it twice. By this it leads to pollution, one common example is water pollution. Due to this reason marine life is getting disturbed.
For this purpose, Starbucks is now working on a modification of its cups and making them reusable. Reusable cups can make your drink hot or cold for a good period of time. With this pollution, the level can also be minimized. It would be the best initial step for our upcoming generation.
Plus Point: Starbucks offers some sort of discount for those who carry their own reusable cups with them.
Frequently Asked Question
Which Size Of Reusable Cup is Offered By Starbucks?
Starbucks offers Red Cups that are made by recycling material, the main purpose of these cups is to reduce the waste amount that causes any sort of pollution. Starbucks Red Holiday reusable cups are available in different sizes tall (12 ounces), Grande (16 ounces), and venti (20 ounces). Still, the popular and default choice among them is the Grande size cup.
Does Starbucks have Special Cup Size For birthday Drinks?
Starbucks does not have any size limit suggestions for birthday drinks on their menu, which means you can order your drink in any size you want. The other case is, you can come along with your cup, and the barista will fill your cup according to your demand.
Is Espresso Shot Added in All Sizes Of Starbucks Cups?
Drinks are served with one or two espressos shot in all cups except Trenta. Even you can not ask the barista to add an espresso shot to your Trenta-size drink because espresso is not applicable to it.
Can You Get Starbucks Cup For Free?
Yes, you can get a free Starbucks cup if you earned a coupon as a reward in your account. The only condition to get this coupon is to do a payment through PayPal, the amount should be more than $5 dollar.
Do Starbucks Own Color Changing Cups?
Starbucks seasonally offers different colors of cups like green, red, pink, and blue. The PH and environment of the cup are perfectly designed according to the nature of the drink. As soon as the drink was poured into the cup environment and PH changed along with the color of the cup also changed.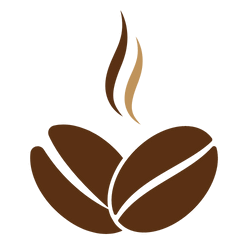 Conclusion
Starbucks is not only for those people who come to enjoy their spare time with extraordinary drink options but also for workers. Like People use to do their official meetings while having Starbucks coffees, coworkers also intend to go there for their project discussion.
By keeping all these facts Starbucks designed their cup sizes, so every person can choose a cup size according to his own demand. Like if you just want good caffeine content in a short time go for a demi cup size, but if you want good caffeine content but with a good amount of liquid then choose a venti option. And choose Trenta if you love to have cold beverages.
So by making different cup sizes and associating these sizes with specific content, Starbucks facilitate their customer in choosing a cup for them.