Most of us take coffee regularly from outside, so if we always go for expensive ones it can be a burden on our budget.
Many coffee companies give their services, claiming the best quality products. But Is it possible to serve people budget-friendly drinks with the assurance of good quality?
Starbucks is a popular coffee chain that sever more than 6 billion people worldwide, so its products would obviously be expensive. Instead of this Starbucks have many money-saving drinks options on their menu even less than three dollars. If you want to check all of that then stay tuned.
Table of Contents
Cheapest Starbucks Drink With Maximum Caffeine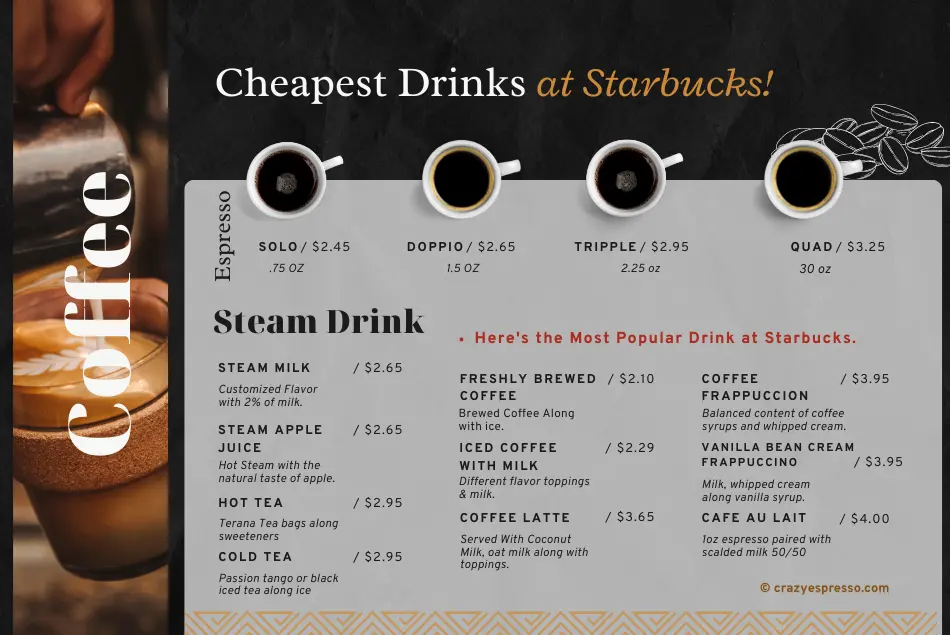 Espresso shot is the best affordable drink with maximum caffeine on Starbucks' official menu. If you want to fulfill your caffeine craving in very little amounts then order an espresso shot. You can order more than one espresso shots at a time it may be Doppio, triple, or quad.
A Grande-size drink contains the caffeine equivalent to the two espresso shot drink, so the caffeine amount can customize as you want. Moreover, if you bring your milk together and then add the milk to the espresso shot it will immediately turn into a delicious latte.
| Espresso Shot | Calorie | Caffeine | Carbs | Protein | Fat | Price |
| --- | --- | --- | --- | --- | --- | --- |
| Solo .75oz | 5 | 75mg | 1g | 0g | 0g | $2.45 |
| Doppio 1.5oz | 10 | 150mg | 2g | 1g | 0g | $2.65 |
| Triple 2.25oz | 15 | 225mg | 3g | 2g | 0g | $2.95 |
| Quad 3oz | 20 | 300mg | 4g | 2g | 0g | $3.25 |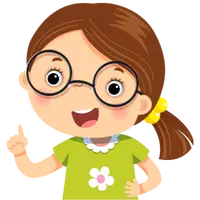 Note
The above calorie count is based on the nutritional value of standard espresso shots.
Money Saving Steamed Drinks at Starbucks
Starbucks have two streamed drinks among the expensive ones that take care of your pocket along with the assurance of good taste.
Steamed Milk
It is available in all cup sizes except Trenta, and the flavor can customize as well as sweeteners. This drink also has steamed hot,  2% milk. It only costs you $1.95 for kids, $2.35 for short, and $2.65 for Grande.
Its standard regular recipes of Grande size cup contain:
Steamed Apple Juice
It is also available in all cup sizes except Trenta, which totally contains steamed apple juice. It gives you the feel of the natural taste of good apple fruit and makes your day the best. You can have this as warm, streamed hot, or extra hot.
Its standard recipe of Grande size cup contains: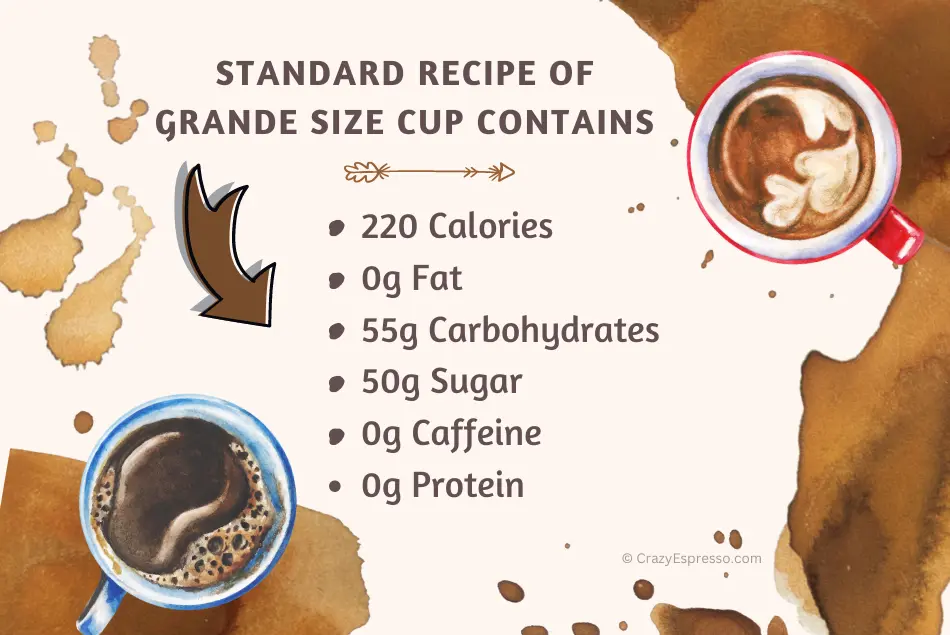 Starbuck's Famous Cheapest Drink
Some of the Starbucks famous drinks that are entirely cost very little are listed below let check them out.
Freshly Brewed Coffee
Its main ingredients are ice, milk, and brewed coffee beans. It is made by using gravity to pour hot water into ground coffee. By passing through a paper the hot water reaches the glass and the coffee is ready to go.
The flavor of freshly brewed coffee entirely depends on the selected bean type. It means you can have your coffee either with cocoa or with nuts, the choice is yours. So this coffee along with all these delicious aspects only costs $1.8 for its tall size cup and $2.10 for a Grande size.
For calorie count, check the table below.
| | |
| --- | --- |
| Coffee Name | Freshly Brewed Coffee |
| Cup Size | Grande |
| Carbohydrate | 0g |
| Fat | 0g |
| Protein | 1g |
| Calories | 5 |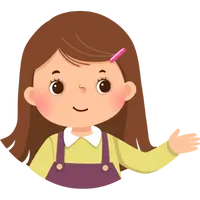 Pro Tip
If you are on a diet, then this cup of coffee is for you because carbs and fats are totally zero.
Iced Coffee With Milk
Starbucks has different flavors for iced coffee like caramel, Hazelnut, and flavors are made by adding flavor syrups. It is also topped with different materials like cookie crumbles, chocolate curls, Holiday sugar sparkles, and many others.
For sweetness, this drink can serve with honey, stevia, and Splenda. Along espresso shot, you can have a blonde espresso shot in this drink. You can enjoy your iced coffee with either of the above ingredients only in a $2.29 tall size and a $2.65 grande size cup.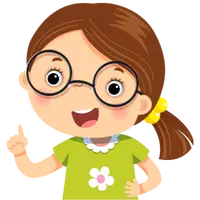 Note
The calorie count will change according to the flavor, sugar, and milk percentage vary.
| | |
| --- | --- |
| Coffee Name | Iced Coffee With Milk |
| Cup Size | Grande |
| Carbohydrate | 23g |
| Fat | 1.5g |
| Protein | 2g |
| Caffeine | 125mg |
| Calories | 110 |
The above calorie count is for a Grande-size iced coffee having sugar, 2% milk,  and natural flavor.
Pro tip: You can customize your milk choice in coffee, by replacing raw milk with almond, coconut, oat milk, and soy milk.
Caffè Latte
Caffe Latte is one of the best drinks offered by Starbucks, it is available in a lot of delicious flavors. Flavors are accessorized with different syrups for example Irish cream, raspberry, toasted vanilla, toffee nut, and vanilla.
Like iced coffee, the Starbucks Caffe latte can also serve with coconut milk and oat milk. Topping makes it better in taste like barista cocoa powder or salted brown butter. It has the advantage of a Ristretto long shot in just $2.95 tall and $3.65 Grande size.
| | |
| --- | --- |
| Coffee Name | Caffe Latte |
| Cup Size | Grande |
| Carbohydrate | 19g |
| Fat | 7g |
| Protein | 13g |
| Caffeine | 150mg |
| Calories | 190 |
This calorie count only varies if the cup size will change otherwise all other changes do not affect the calorie count.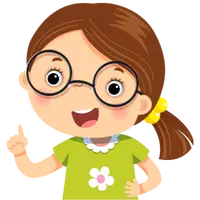 Note
You can have this coffee as your warm, streamed hot or extra-hot drink.
Coffee Frappuccino
It is a delicious drink with a completely balanced content of coffee, syrups, and whipped cream. This blended beverage can serve with heavy milk, nonfat milk, or soy milk.
Affogato shot along espresso roast option make it fabulous. This drink along with different toppings, chai, and sweeteners costs you only $3.25 for tall and $3.95 for Grande.
| | |
| --- | --- |
| Drink Name | Coffee Frappuccino |
| Cup Size | Grande |
| Carbohydrate | 46g |
| Fat | 3g |
| Protein | 3g |
| Caffeine | 95mg |
| Calories | 230 |
The calorie count is based on the standard recipe including the ingredient coffee frappuccino syrup, milk, and ice. Only cup size will affect the calorie amount.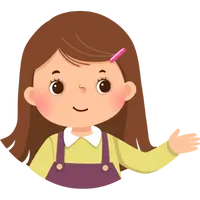 Pro Tip
If you want to make it a cheaper and less calorie drink then order a tall cup size instead of a Grande.
Vanilla Bean Crème Frappuccino
Milk is added to this drink, it may be 2% milk, whole milk, as well as with vanilla sweet creams. Syrups like caramel, Chestnut, and hazelnut make a good enhancing flavor.
Whipped cream which may be extra whipped or light whipped is added to some extent. This frappuccino has some scoops of vanilla bean powder along with tea and sweeteners (honey, Splenda, sugar) it only costs $3.25 for a tall and $3.95 for a Grande size.
| | |
| --- | --- |
| Drink Name | Vanilla Bean Creme Frappuccino |
| Cup Size | Grande |
| Carbohydrate | 53g |
| Fat | 16g |
| Protein | 5g |
| Caffeine | 0mg |
| Calories | 380 |
The above calorie content is calculated according to the ingredients used in standard recipes like Frappuccino syrup, vanilla powder, ice, and whipped cream.
Cheapest Venti Coffee at Starbucks
The most affordable venti cup-size coffee of Starbucks is iced coffee and freshly brewed coffee.
| Iced Coffee (Venti) | Freshly Brewed Coffee (Venti) |
| --- | --- |
| Only for $3.01 | Only for $2.50 |
| 120 calories | 5 calories |
| 30g carbohydrate | 0g carbohydrate |
| 0g Fat | 0g Fat |
| 0g protein | 1g Protein |
Starbucks Affordable Teas
Both of the below Starbucks hot tea and cold tea are affordable options with very good taste.
| Hot Tea | Cold Tea |
| --- | --- |
| Teavana tea bags are used. | You can customize it with different kinds of tea like passion tango, and black iced tea. |
| Give you a warm feeling in cold weather. | You can enjoy it with ice which makes its taste more vibrant. |
| You can add sweeteners like honey, Splenda, etc. | Sugar and honey addition is not compulsory you can take it unsweetened. |
| For grande size, it cost only $2.95. | For $2.95 you can get its grande size cup. |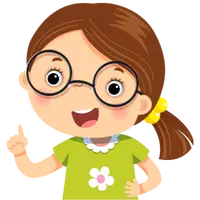 Note
Whether you choose hot tea or cold price will be the same, the only difference is taste. Select the taste that suits you the most.
Other Affordable Drinks on Starbucks Menu
| Drink Name | Price |
| --- | --- |
| Iced Caffee Americano | $3.45 |
| Iced Tea Lemonade | $3.45 |
| Caffee Misto | $3.45 |
| Caffee Americano | $3.45 |
| Hot Chocolate | $3.75 |
| Cool lime Very Berry | $3.25 |
Best Hacks To Save Money At Starbucks
The following tips will definitely help you to save your money while placing any order at Starbucks:
Ask your Barista to add little ice, in this way cup should be filled with additional drinks and you enjoy more drinks at the same amount.
You can get free drinks at Starbucks by registering yourself at Swagbucks. You can earn money on this platform by watching ads or videos.
By using the drop app (a reward-giving app on any online surveys, or videos) you can earn some gift cards, these gift cards are key for you to get free drinks at Starbucks.
Always prefer to order a smaller size of your drink.
Order a venti size of your drink and ask for an additional cup, in this way you can share your super big drink with your friend.
Order an espresso shot and bring your milk together add the milk to the espresso shot and enjoy the delicious latte. In this way, you just have to pay for the espresso shot, not for the delicious latte.
Try to take your coffee at Starbucks because the honey and syrups are cost-free you can add them various times without extra charges.
Does Starbucks App Make Drinks Cheaper For You?
If you have an account on Starbucks' official app it means you are their registered customer. Starbucks has many money-saving policies for its members:
They can take free refills, otherwise, a nonmember person should have to pay 50 cents for each refill.
If you pay by using the Starbucks app you win some stars or coupons as a reward these can use to buy any drink in the future.
Every month Starbucks announces a double star day, on that day you can earn twice a star on each reward.
Registered members of Starbucks can enjoy some birthday discounts as they receive a mail from Starbucks 2 days before the day of the birthday.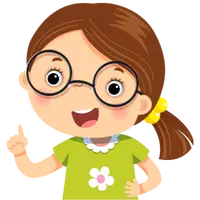 Note
The birthday reward maybe a drink or any of your favorite food items.
Starbucks also gives some discounts (seasonal) only to their registered members.
Starbucks has a gift card scheme for its registered members.
Ultimately there are a lot of reasons that prove that Starbucks' app makes drinks cheaper and more affordable for their loyal customers.
Frequently Asked Question
Is Starbucks Charge for Their Drinks More Than Dutch Bros?
No doubt there is a great price difference between these coffee shops because Dutch bros sell their drinks and coffee at very reasonable prices compared to Starbucks. But the main fact is that Starbucks never ever compromised on its quality and has more coffee and drink options than Dutch Bros.
When Will Starbucks Release Its Holiday Drinks?
Starbucks offers various holiday drinks like Caramel Brulee Latte, Irish Cream Cold Brew, and many other delicious drinks. In the previous year, Starbucks released these drinks on 3 November 2022, but for this year the updated date is 7 November 2023. So you can enjoy your holiday drink at Starbucks this November.
Is Starbucks Actually Expensive Or it is Just a Myth?
Yes, Starbucks is quite expensive but your money is actually the payment for their quality ingredients and the labor they put in to make your drink delicious to the next level. No doubt they charge more than a local coffee shop but their taste is unmatched and when it comes to coffee it's all about the taste. It means Starbucks returns your money in the form of the best taste ever.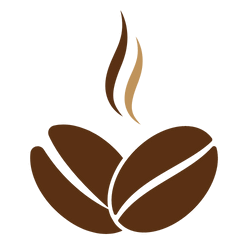 Conclusion
Although Starbucks has expensive drinks, especially coffee on its menu but still have some money-saving drink. So if you are a regular coffee user then prefer to order those coffees that cost you the very least.
Don't think that a cheaper drink will not delicious because you can also customize it by asking the barista to add flavor, toppings, and syrups.
I am asking you to always take the cheaper drinks or coffees you can also choose an expensive one within an affordable range. Just order an expensive drink in a mini size and save some money. Instead of all these cheaper and more expensive scenarios just focus on enjoying your drink.
If you love reading this post and want to read it in the future then Save this pin in your Pinterest "Starbucks Drinks" Board.